Upcoming Events
No matter what the season, there is always something going on in the Huntsville Town. Keeping our residents informed of scheduled events and local happenings is important.
Know of an upcoming event that we need to add? Give us a call or send us an email and we will be happy to add it for you.
Upcoming Events
Town Council Meeting and Public Hearing on Proposed Budget
Begins: 6/17/2021 - 7:00 p.m.
Ends: 6/17/2021 - 10:00 p.m.
The Huntsville Town Council will hold a public hearing on the Proposed Budget for FY 2022, the Amended Budget for FY 2021, the Consolidated Fee Schedule and the Capital Improvement Plan on Thursday, June 17, 2021 at 7 p.m. at the Huntsville Town Hall Agenda. The Public Hearing Notice is below.
Garden Tour of Huntsville
Begins: 6/26/2021
Ends: 6/26/2021
The Ogden Nature Center is holding a garden tour in Huntsville. This is a fundraising event. Please see the flyer below:

Independence Day Celebration
Begins: 7/3/2021 - 7:00 am
Ends: 7/3/2021 - 10 pm
The Huntsville Town Council is moving forward with plans to celebrate our nation's Independence Day on Saturday, July 3rd, 2021. The tenative schedule is below along with the registration for the parade: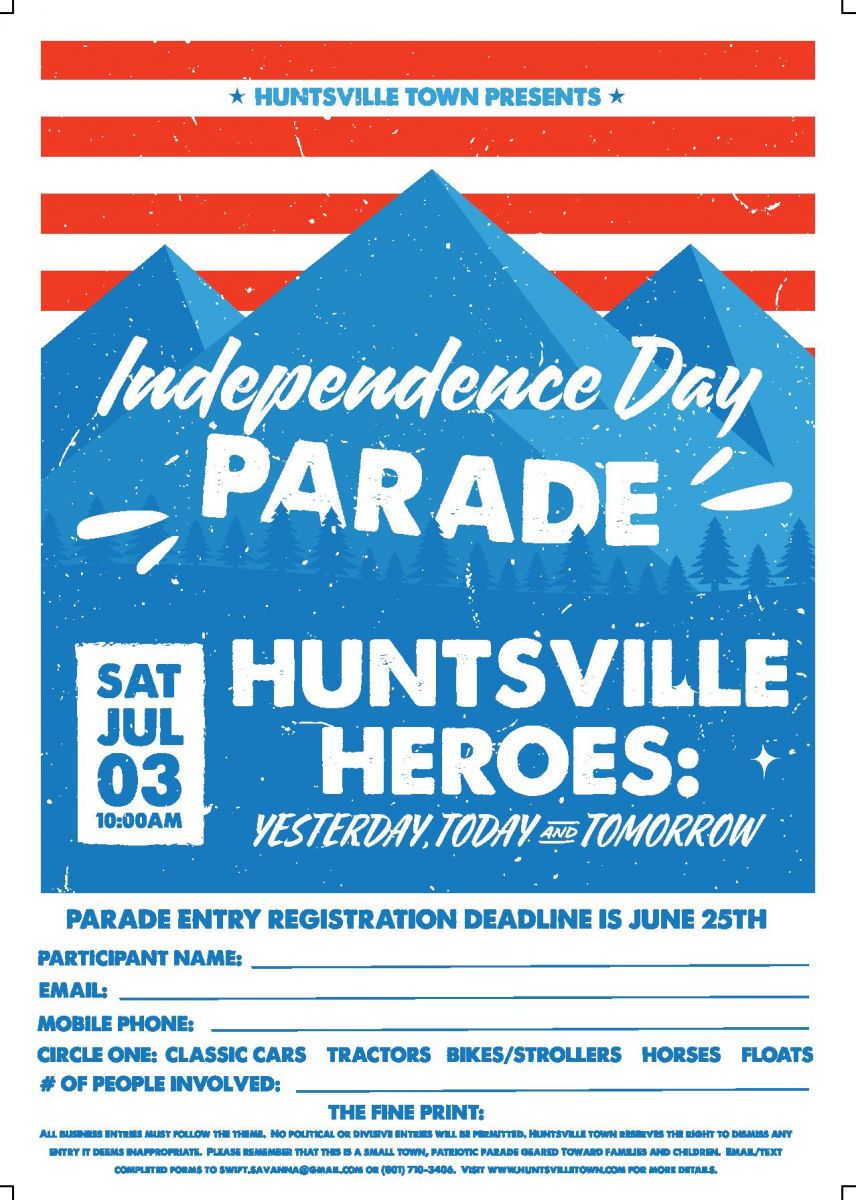 | | | | | |
| --- | --- | --- | --- | --- |
| July 3rd | | | | |
| 7:00 AM | Wake up call | WCSO | | |
| 8:00 AM | Fun run | Brenley Burton | | 801-310-2991 |
| 9:00 AM | Flag Raising Ceremony | Richard Sorensen | rsor@msn.com | 791-7004 cell |
| 9:50 AM | F-16 Flyover | | | |
| 10:00 AM | Parade | Savanna Swift | | 801-710-3406 |
| 11:00 AM | Games & Booths | Wendy McKay | Huntsvilletown4th@gmail.com | 801-791-3001 |
| | | | | |
| | | | | |
| 11:30 PM | Patriotic Program | Bruce Ahlstrom | Brucewa1@msn.com | 801-791-8473 |
| | | | | |
| | | | | |
| 7:45 pm | Flag Retiring Ceremony | JR Johansen family | | 385-244-7027 |
| 8:00 PM | DJ Music and Dancing | Beat of time | | |
| 10:00 PM | Fireworks and Goodnight! | Bryan Clapperton | | 745-0216 |
| | | | | |
| July 4th | | | | |
| | | | | |
| TBA | Patriotic Program | Bruce Ahlstrom | Brucewa1@msn.com | 801-791-8473 |