Welcome to Huntsville Town

Huntsville Town...A Great Place to Live!

If you love small towns you will love Huntsville Town! Although Huntsville Town is part of Odgen Valley and the greater Weber County, we are incoperated which makes us a unique part of the Valley. Huntsville Town has it's own Mayor and governing bodies.

We invite you to take a stroll around this cute community and see what we have to offer. Huntsville Town has a nice selection of resturants, a library, gorgeous parks and beaches, an ice skating rink (in the winter months), even an observatory. We are also home to one of the oldest bars west of the Mississippi.

See our commumity calander for events around Town as well.
Public Meetings are Live Streamed to our You Tube Channel.
Featured News
July 4th Parade Flier
7/4/2023
The 4th of July will be here before we know it! If you are interested in being a part the the Famous Huntsville Town Independence Day Parade, please fill out the form below and send it to the email listed on the flier. Please contact Hillary Evans for any questions regarding the parade.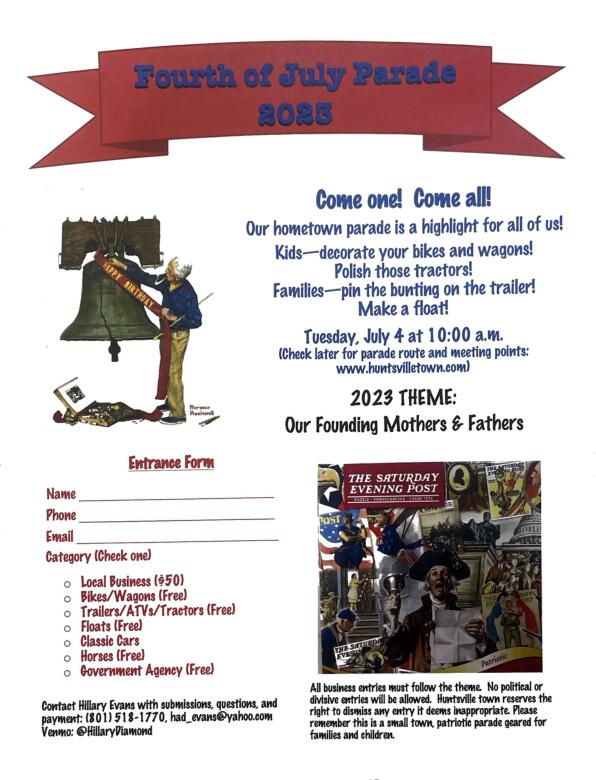 Huntsville Town Nominating Conventions - Elections 2023
5/22/2023
Nominating Conventions will be held Wednesday, May 24th at 6 p.m. at the Huntsville Town Library. Please come to nominate and vote for new candidates to fill these vacancies. Candidates must be a registered voter of Huntsville Town and live within the Huntsville Town boundaries. Any person...
Memorial Day Events
5/18/2023